Enjoy the beauty of a tropical Caribbean island with your private Roatan tour. Whether you want to relax or dive into adventure, Roatan has plenty to offer. Zip lines allow you to glide above the tropical wilderness. Roatan features a world class golf course. Hike on a nature tour, take a boat ride through tunnels of mangrove trees, or spend the afternoon snorkeling.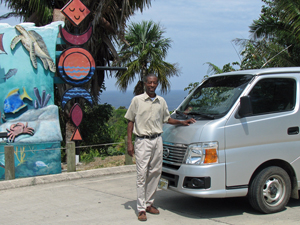 Roatan is the largest of the beautiful Honduras Bay Islands of Honduras. The appeal of this tropical Carribbean island draws thousands of tourists each week. Roatan Island, which is called isla Roatán in Spanish, is rich in history, wildlife, and beautiful, clear water beaches.
Roatan is known around the world for its exceptional scuba diving, and has dozens of dive sites. Sunken ships, a plane fuselage, reef walls, caves, and sandy sea beds provide outstanding surroundings for your diving adventures. Explore the waters just off the island or enjoy the myriad colors of curious fish. If you are adventuresome, you can try a night dive or a day time dive with the sharks. If you prefer more friendly creatures, you can swim with dolphins. Dolphins are contained in a large, fenced area so that people can enjoy diving or snorkeling with them.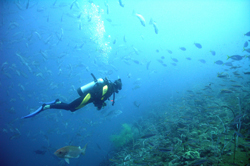 Whale sharks migrate through the Bay Islands area seasonally. Divers enjoy encountering these large, harmless creatures in their natural habitat. Boats are used to locate whale sharks prior for whale shark encounters. These encounters may be far from shore.
You may become certified as a diver or simply dive for fun. If you are interested in certification, compare prices on the Bay Islands to those in your home country. You may save a considerable amount of money by choosing to be certified during your visit to the islands.
The reef surrounding Roatan attracts sea life and provides sheltered waters for swimmers. Snorkelers may see sea turtles gliding below the surface with ease. Warm water temperatures and the mild climate make swimming enjoyable almost year around.